Technical facilities
BUILDING-INSTALLATION AND ELECTRICAL TEAMS
The workers have been working for many telecommunications companies and thus gaining much experience, especially in working at high altitude (high buildings).
We employ workers with SEP-certified electrician's licence (SEP - Association of Polish Electrical Engineers) in operation and supervision.
Highly qualified installation teams with rope access techniques used for working and transport of equipment in high locations. The fitters have finished a lot of courses related with installations and configurations of telecommunication equipments.
FORMS OF TRANSPORT
The company owns delivery vans and the CARGO insurance covering the equipment and the materials during transportation.
MEASURING DEVICES
Sets of fiber measuring instruments JDSU
PCM highways tester
Antenna tracks testers "site master" (Anritsu production)
Multi-function electrical measurement device Sonel MPI 510
STORAGE AREAS
We have a storage area at our disposal under security watch 24/7. The materials and equipment under our supervision are insured for the time of storage.
Contact us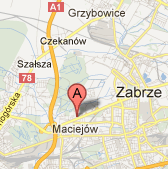 Tel. (32) 234 65 04
Tel. (32) 234 63 57